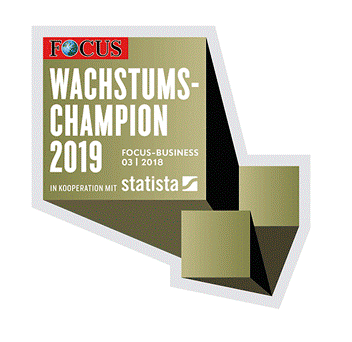 https://www.ziegler.global/wp-content/uploads/2019/07/WachstumsChampion.png
342
352
jonas
https://www.ziegler.global/wp-content/uploads/2019/09/ziegler-group-logo.png
jonas
2019-09-17 15:30:24
2019-09-17 15:30:25
Rewarded agian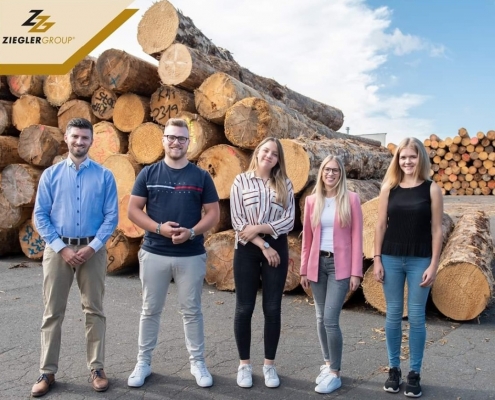 https://www.ziegler.global/wp-content/uploads/2019/09/Azubis.jpg
880
1078
jonas
https://www.ziegler.global/wp-content/uploads/2019/09/ziegler-group-logo.png
jonas
2019-09-02 12:00:51
2019-09-17 14:28:09
Trainees 2019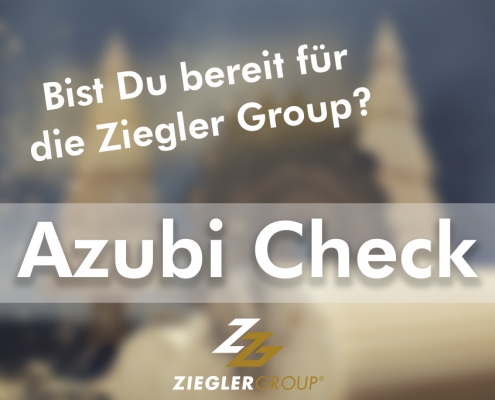 https://www.ziegler.global/wp-content/uploads/2019/07/Azubi-Check.jpg
684
845
jonas
https://www.ziegler.global/wp-content/uploads/2019/09/ziegler-group-logo.png
jonas
2019-07-19 12:00:51
2019-09-26 13:42:55
Ziegler Group Trainee Check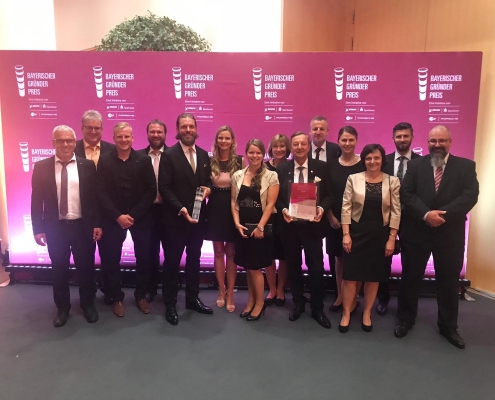 https://www.ziegler.global/wp-content/uploads/2019/09/62187419_342224769752284_1861352892380741632_o.jpg
1200
1600
jonas
https://www.ziegler.global/wp-content/uploads/2019/09/ziegler-group-logo.png
jonas
2019-06-06 12:00:23
2019-09-17 15:06:14
Bavarian Founder Award 2019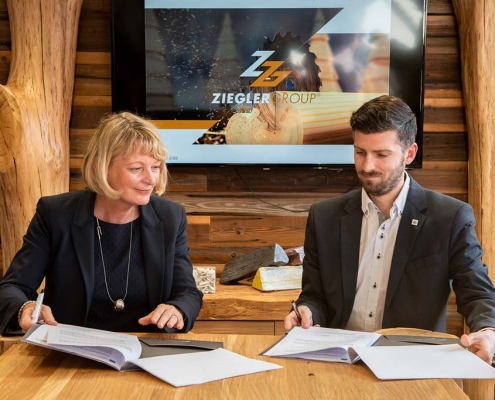 https://www.ziegler.global/wp-content/uploads/2019/03/Kooperation_mit_OTH.jpg
684
845
jonas
https://www.ziegler.global/wp-content/uploads/2019/09/ziegler-group-logo.png
jonas
2019-03-12 12:00:54
2019-09-17 15:18:09
Investment in the future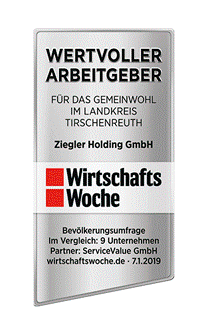 https://www.ziegler.global/wp-content/uploads/2019/07/WertvollerArbeitgeber.png
336
213
jonas
https://www.ziegler.global/wp-content/uploads/2019/09/ziegler-group-logo.png
jonas
2019-01-21 12:00:50
2019-09-17 15:23:00
Valuable employer

Bavarian Founders Award 2019
At the suggestion of the Sparkasse Oberpfalz Nord, the ZIEGLER GROUP was nominated for the Bavarian Founders Award 2019 in the category Succession.
The Bavarian Founder Prize is awarded for exemplary achievements in the development of innovative and sustainable business ideas and the establishment of new companies.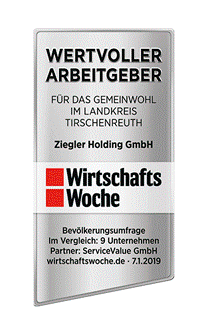 Valuable employer
The people living there know best what makes employers in their region valuable.
Against this background, the market research institute ServiceValue, on behalf of WirtschaftsWoche, asked the residents of 106 rural districts and 34 independent towns in the southern region how they assessed the value of a total of 3804 regional employers for the common good.

Growth champion 2019
For the third time in a row, our Logistics division has now been named one of the 500 fastest-growing companies in Germany. In the corresponding category "Traffic and Logistics" we even came 8th!
Bayerns Best 50
Entrepreneurs who identify and consistently exploit new opportunities for growth and employment are the backbone of our economy. They live entrepreneurship, assume responsibility and create the jobs that form the basis for the high standard of living in Bavaria.
In recognition of this achievement, the Bavarian State Ministry of Economic Affairs, State Development and Energy is once again awarding BAYERNS BEST 50 to the 50 fastest-growing medium-sized companies this year. The prize is awarded to particularly fast-growing medium-sized companies that have been able to increase their number of employees and their turnover at an above-average rate in recent years!